---
LCV Update
The latest news on the Renault Pro+ commercial vehicle line-up.
Renault Pro+ and EVEC to help van fleets go electric
Fleets considering rolling out electric vans are invited to find out more about the technology from Electric Vehicle "gurus", Renault Pro+ experts and fleet customers as part of a week-long event at the Electric Vehicle Experience Centre (EVEC) in Milton Keynes.
Opened in 2017 and operated by charging point manufacturer Chargemaster, the EVEC is a first-of-its-kind multi-brand electric vehicle showcase based in the city's centre:mk shopping centre. It offers impartial, one-on-one advice and guidance for private and business users interested in switching to electric vehicles, and a chance to discuss, browse and test the latest models.
From February 11th, the centre will focus on the Renault Pro+ electric commercial vehicle range, and the network that supports them. Renault Pro+ will host a series of seminars and discussions, combining its own expertise with that of fleet customers and the leasing industry, to answer questions about the technology.
The full line-up, from Twizy to New Master Z.E. will also be available to explore on site, with opportunities to drive selected models from the car park.
To find out how electric commercial vehicles could benefit your fleet, click here >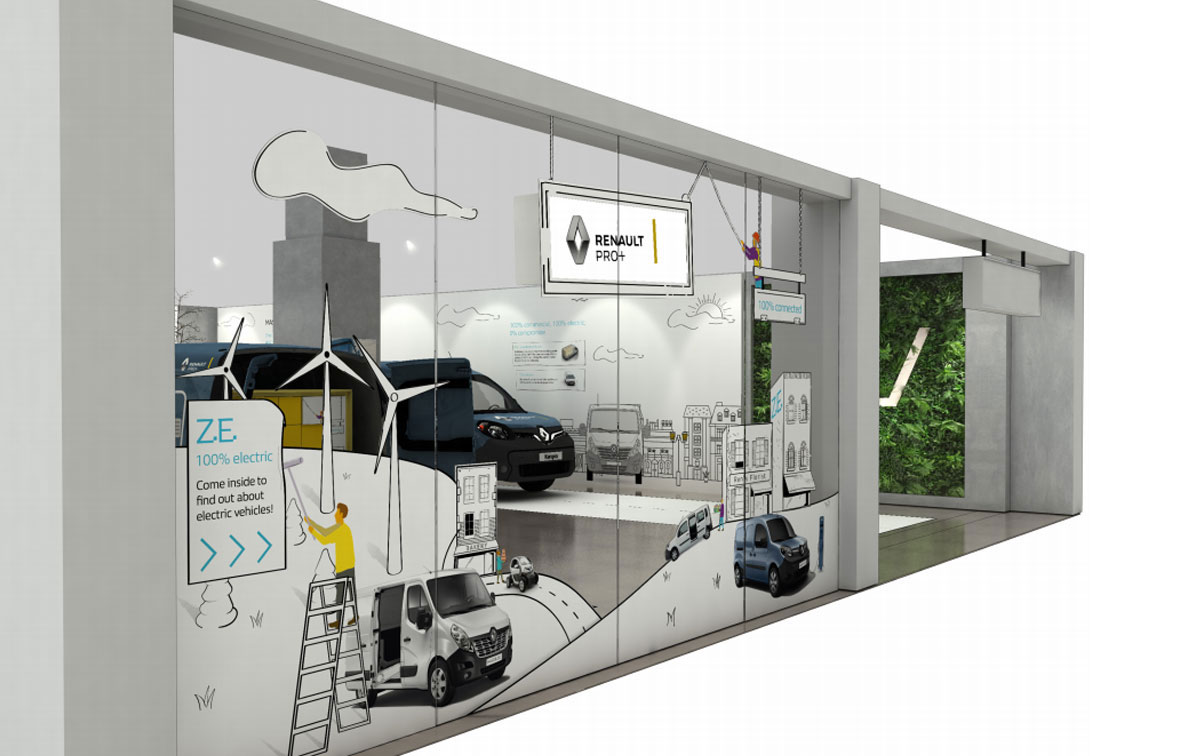 Premier Editions for Kangoo, Trafic and Master
Renault is launching three range-topping Premier Edition vans.
Available on Kangoo, Trafic and Master, Premier Editions are marked out by sleek black bodywork with black alloy wheels and unique graphics. Each builds on an already generous list of standard specification, adding Renault's advanced R-Link infotainment system with TomTom® navigation and a rear-view camera, as well as a dashcam and technology that warns of a potential collision or when drivers move out of their lane.
It's not just the spec that's a cut above the rest of the range. This desirably high level of equipment has resulted in Premier Edition models attracting a residual value uplift from the best-known data providers. Customers also get peace of mind from the three-year/10,000-mile warranty¹ and lifetime roadside assistance² as standard.
The arrival of the Premier Edition vans comes at a time when Renault are raising their game. This season, Renault are sponsoring Sky Sports coverage of the Premier League. As part of this, you'll see Renault Pro+ Premier Edition vans feature on the Premier League section of the Sky Sports website.

Kangoo Z.E. delivers at Fortnum & Mason
London luxury department store Fortnum & Mason is continuing to minimise the cost and carbon footprint of deliveries with a renewed fleet of two refrigerated Kangoo Z.E. 33 electric vans, powered using renewable energy.
Replacing a pair of Kangoo Z.E. vans deployed in 2015, the newcomers will be operated seven days a week and make an average of 40 deliveries per day. With an NEDC driving range of 170 miles³, the vans can complete a day of deliveries on a single charge, while the specialist refrigerator conversion removes the need for a diesel-powered generator to run the chiller.
The vans are exempt from the Congestion Charge and compliant with the proposed Ultra-Low Emission Zone, offering low running costs while also contributing to the company's ongoing measures to reduce its carbon footprint.
David Woodroof, Logistics Manager, Fortnum & Mason, said: "While the actual mileage our vans cover is low, the driving conditions are demanding, but the Kangoo Z.E. 33 overcomes a lot of the issues you would have with a conventionally-engined van, while also being significantly cheaper to run and maintain."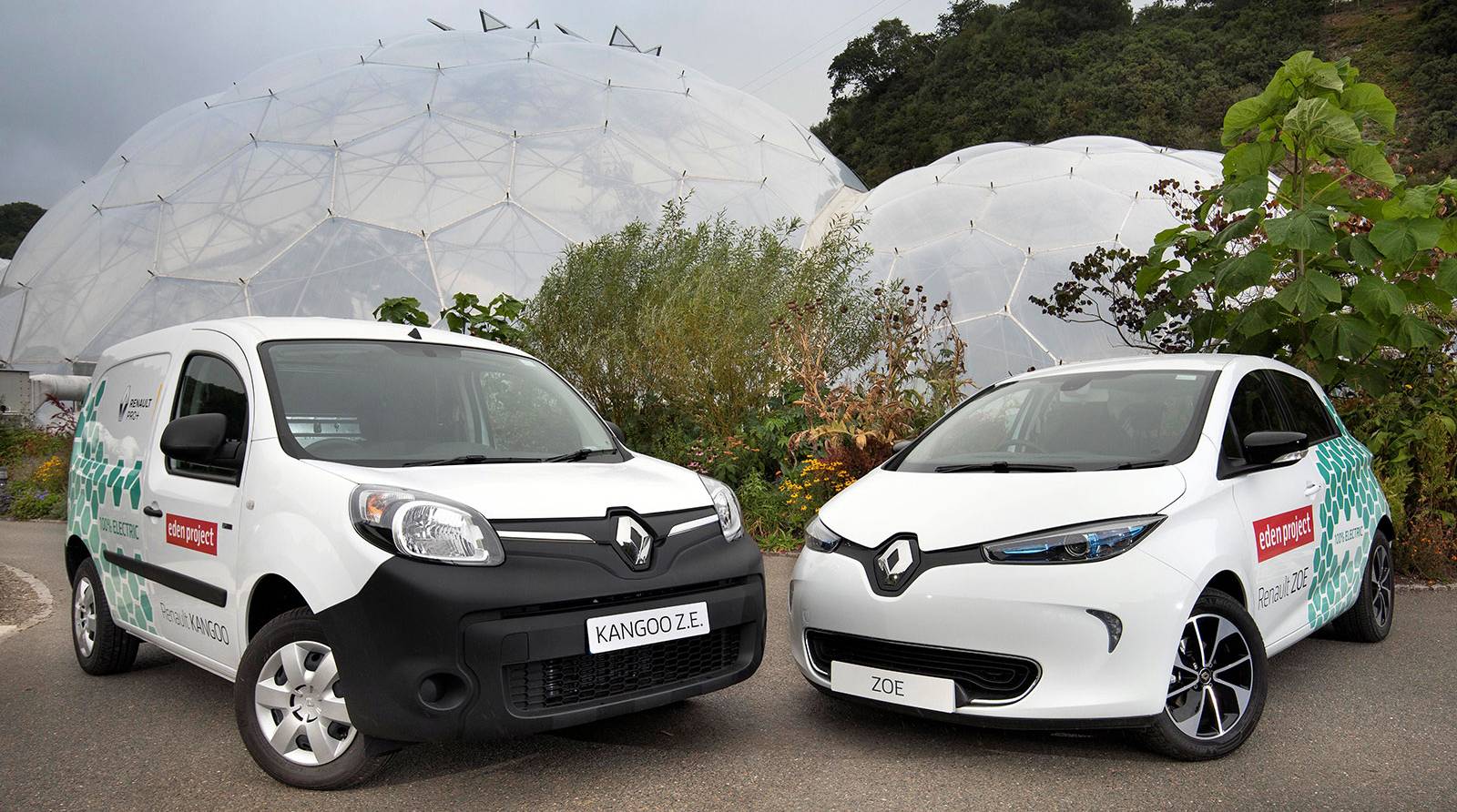 Eden Project refreshes its Renault EV fleet
The Eden Project has renewed its fleet of electric Renault cars and vans, replacing vehicles which have covered more than 94,000 miles.
Comprising three ZOE hatchbacks and 14 Kangoo Z.E. 33 vans, the latest additions will be used for a multitude of roles, on teams including maintenance, security, catering and medical and visitor transport at the site.
Rita Broe, Marketing Director of the Eden Project, said: "The beautiful fleet of vehicles suits our purposes perfectly, doing everything we need them to do while having minimal impact on the environment and communicating important messages about sustainability to our visitors. We're very grateful to Renault for their ongoing support of our work."
Ben Fletcher, Electric Vehicle product manager at Renault UK, added: "Not only have Renault EVs helped the Eden Project perfectly illustrate the real-world benefits of electric vehicles, they have also kept their operations running smoothly due to their immense ease-of-use and flexible charging options."

¹ Warranty applies for three years or 100,000 miles, whichever comes first. For full warranty terms and conditions click here.
² Eligible on LCVs (Master/Trafic/Trafic Passenger/Kangoo) ordered from 1st October 2018 which have complied with the MOT and Servicing guidelines and time schedules set out in the manufacturers guidelines (as set out in the vehicle handbook).
³ Figures are obtained for comparative purposes in accordance with EU Legislation and may not reflect real life driving results.