---
Renault strengthens Felix Project partnership
Fleet of all-electric Kangoo Z.E. vans delivering food to the disadvantaged.
Renault UK is growing its support of the London-based Felix Project with the donation of a further seven all-electric Renault Kangoo Z.E. panel vans. This will allow the charity to expand its operation to provide the capital's most disadvantaged inhabitants with fresh food.
The development strengthens the partnership between the manufacturer and The Felix Project, which was established in November 2017 with the initial donation of a single Kangoo Z.E.
The additional vans will grow the charity's fleet by more than 50%, enabling it to significantly increase the 20 tonnes of food they currently deliver each week. This is food which is fresh yet cannot be sold for a number of reasons, that they collect from supermarkets, wholesalers and other suppliers, and distribute free of charge to around 200 charities and schools throughout London. In turn, these organisations then provide meals, snacks or food parcels to those in need, including elderly or homeless people, struggling families, those with mental health issues, refugees and asylum seekers.
All of the vans will initially be based at the Felix Project's central London operation. Vehicles that are already in-use in the depot will be allocated to the charity's other sites with the result that the central operation's distribution and collection service will be 100 per cent electric.
The constant stop/start for collections and drops, average journey lengths and the demanding nature of driving in the capital mean that the Kangoo Z.E. is the perfect vehicle for the Felix Project. Immensely easy to drive with users not having to worry about gear changes and enjoying instant response from the advanced drivetrain, the van is ideal for negotiating the city's traffic, while also returning a significant saving on fuel costs and being exempt from the London Congestion Charge.
The ease-of-use is especially important to The Felix Project as the latest vans will not be assigned to one driver, but used by a variety of volunteers on evening runs into the capital. The Kangoo Z.E.'s payload of 640kg – near identical to that of its diesel counterpart – also makes it exceedingly versatile, the Felix Project's existing Kangoo Z.E. is able to accommodate 32 crates of food, which is enough to deliver to four primary schools.
The Felix Project was established in early 2016 in memory of Felix Byam Shaw – the son of one of the charity's founders – who died suddenly from meningitis in 2014. The idea for the charity was born out of Felix's compassion for fellow youngsters who didn't have his advantages and, in particular, after he played in a football match and discovered that some of the opposing team of 10-year-old boys from South London hadn't had anything to eat that day.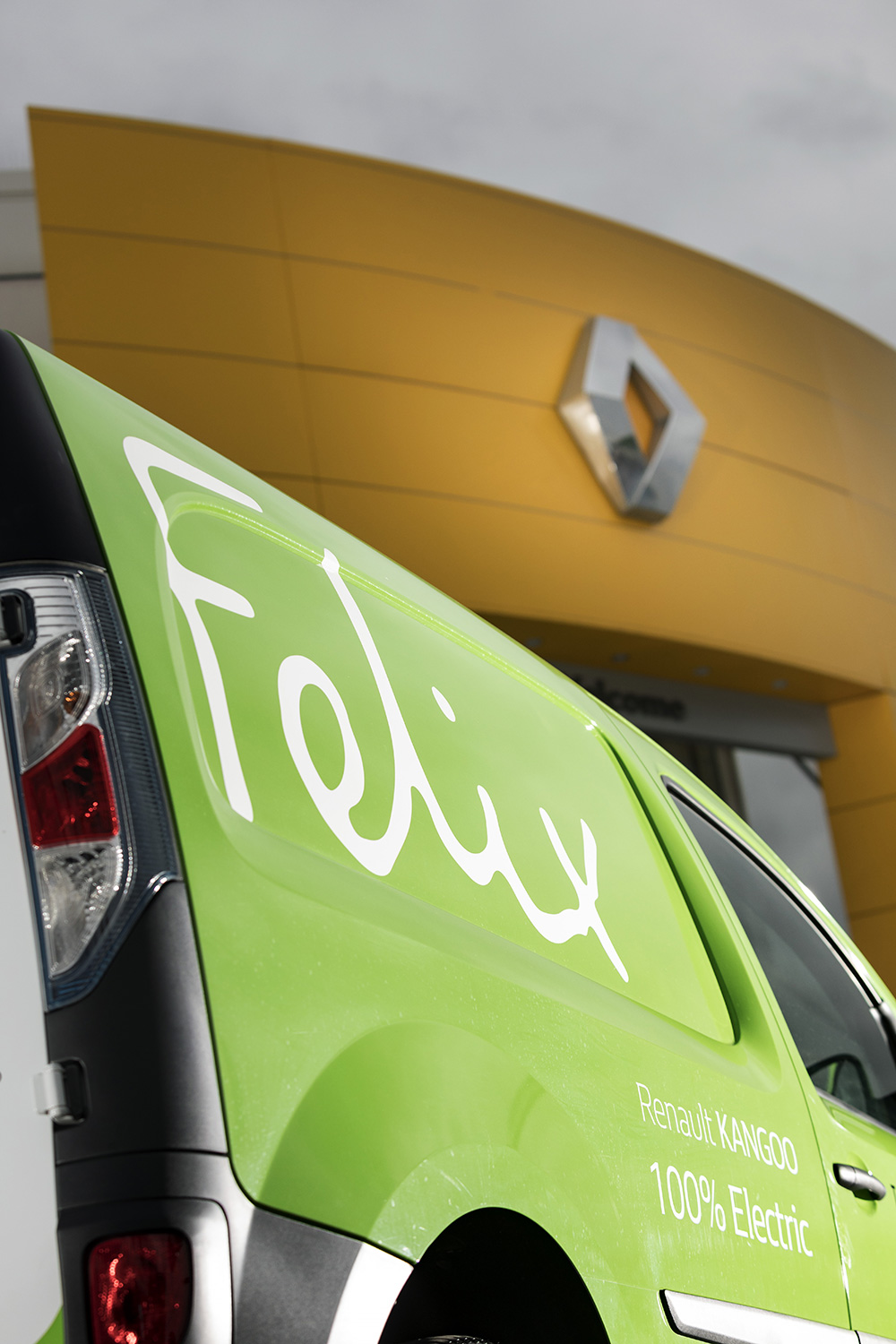 Anne Elkins, Development Manager for The Felix Project's school programme, said "The new Kangoo Z.E.s will make a big difference to our operation, allowing us to plan more routes and also collect more donations that are made available on an ad hoc basis and which need to be collected in a short time frame. It's great to have the extra capacity and the support from Renault.
"Our original Kangoo Z.E is a big hit with our drivers due to its manoeuvrability and being so easy to drive. The van really is a great fit for us as it does everything we need and adds another carbon efficient element to our operation's ethos on protecting the environment by cutting down food waste and ensuring that good, nutritious food isn't thrown away."
Vincent Tourette, Managing Director, Groupe Renault UK, added: "We're exceptionally pleased to extend our support of The Felix Project. The charity is passionate in what it does and it's a privilege for us to play a part in helping them to grow their operation and ultimately supply food to those in the capital who are in the most need. With its latest Kangoo Z.E. the Felix Project can extend their reach but also invest the majority of their current fuel and congestion charge costs back into other areas of the business."
"The van really is a great fit for us as it does everything we need and adds another carbon efficient element to our operation."
---
Anne Elkins, Development Manager, The Felix Project
About the Kangoo Z.E.33
The Kangoo Z.E.33 has a real-world range of 124 miles* and has a load capacity of up to 4.6m³, coupled with diesel-rivalling payload of up to 640kg. Together with the enhanced 33kWh battery, the Kangoo Van Z.E.33 benefits from an upgraded charger that reduces charging times and is twice as powerful as its previous one. The single-phase 7kW AC charger can take the new 33kWh battery to a full charge in just six hours, with the ability to 'top-up' the vehicle by up to 21 miles in just one hour. The Renault Kangoo Van Z.E.33 is available in a range of body styles, including Kangoo Van Z.E.33, Kangoo Maxi Z.E.33, Kangoo Maxi Crew Van Z.E.33 and Kangoo Maxi Crew Van Cab Z.E.33.
*Figures are obtained for comparative purposes in accordance with EU Legislation and may not reflect real life driving results.