CASE STUDIES
First responders like Tipo for space
Station wagon can carry all the varied equipment voliunteers need
SOUTH CENTRAL AMBULANCE SERVICE
A specially adapted Fiat Tipo Station Wagon has been used to respond to more than 200 medical emergencies in Buckinghamshire.
The vehicle is being trialled by a group of four volunteers for South Central Ambulance Service whose role it is to attend medical emergencies in their community and provide care until an ambulance arrives. 
The community first responders could be dealing with life-threatening emergencies, such as cardiac arrest, stroke, choking or serious blood loss, and therefore need to carry a variety of equipment. 
Community first responder Chris Wright, who was instrumental in arranging the loan of the special Tipo from Fiat, says: "It's ideal because the Tipo has plenty of space in the back. It has to lug around a fair amount of equipment. We have the medical bag, which contains oxygen and all the dressings and masks. We carry Entonox, which is another gas for anaesthetic purposes. We have a burns kit and a maternity kit, as well as hard hats and high-vis jackets."
The vehicle, which is based at Chalfont Saint Peter's Ambulance Station, has ambulance livery and lights mounted on the roof.
"It's good visibility for us; you can't miss the car," Wright says. 
The car's 1.6-litre diesel engine has CO2 emissions of just 98g/km and an official combined fuel economy figure of 76.3mpg.
The car a year ago it has clocked up more than 4,000 miles in its first year and is achieving a real-world fuel economy of 40+ mpg as it can spend time idling and is only used in urban areas. 
A separate group of community first responders elsewhere in the county is using Fiat Panda 4X4s. There are three Panda 4X4s in South Buckinghamshire and two in North Buckinghamshire, both of which are used in "fairly rural areas", according to Chris Wright, so the 4x4 capability has proved ideal. 
SSE
Shared values behind energy provider's fleet choice
Shared values about safety and the environment were key reasons why energy provider SSE opted for Fiat Professional, according to fleet manager Gemma Trew. SSE has a fleet of around 6,000 light commercial vehicles, ranging from small city vans to 6.5-tonne large panel vans and specialist vehicles.
Since 2014, Fiat Professional has supplied more than 2,100 commercial vehicles to SSE, including 230 Fiorinos, 681 Doblò Cargos and 1,201 Doblò Maxis. The vehicles, which are on five-year contract hire with maintenance agreements, are used by SSE's sales team, fitters and installers to help serve more than nine million customers throughout the UK.
Trew says: "The safety of our team is of paramount importance to SSE and a key focus of our risk management policy. That's why we chose Fiat Professional to provide our fleet as they share our values when it comes to safety.
Fuel economy and the brand's environmental credentials were also reasons why SSE opted for Fiat Professional.
The Fiorino's CO2 emissions start at 115g/km, with an official combined fuel consumption figure of 64.2mpg, while the Doblò Cargo's emissions are 133g/km/56.5mpg, and the Doblò Maxi is123g/km/60.1mpg.
"Reducing our environmental impact is a key focus of our corporate social responsibility and fuel economy plays a big part in reducing our carbon emissions," Trew says.
"That's another reason we chose Fiat Professional to provide our eco-friendly fleet vehicles."
She adds: "Fiat Professional has won a multitude of environmental awards over the years, including the Commercial Fleet Green Vehicle Manufacturer of the Year in 2015, so it was clear we shared the same values."
The vehicles have proved "reliable and functional", according to Trew, and have been well received by SSE drivers.
But it is Fiat Professional's staff which really set the brand apart.
"We have always appreciated the experience and technical expertise the FCA team brings which is a real value add for us," Trew says.
JOHN O'CONNER GROUNDS MAINTENANCE
Payload needs prompt switch
Payload needs prompt switch Grounds maintenance company opts for all Fleet Professional line-up
John O'Conner Grounds Maintenance plans to switch its entire light commercial fleet to Fleet Professional to help meet payload requirements. Around 80% of its fleet of 250 vans is currently a single badge. But senior workshop manager Simon Redhead began to consider other brands a year ago when he realised that the payload would be reduced on the latest Euro 6 model due to the addition of the AdBlue tank. Payload is important because the company maintains parks and other sites for local authorities and its vehicles need to carry a variety of equipment. 
After researching the market Redhead opted for the Fiat Ducato LH1 Chassis Cab as it meets Euro 6 emissions standards by using an exhaust gas recirculation system which doesn't require AdBlue, therefore maintaining its payload.
The Ducato also appealed because it has a shorter chassis, making it easier to turn into gateways in parks, while the vehicle is lower to the ground which makes it ideal for loading using a ramp.
The options available on the Ducato, such as composite rear springs and different fuel tank sizes, were also favourable. 
 "The chassis doesn't come with a rear light board. You can order it, but you don't have to," says Redhead. "We had our light boards made in aluminium, just as another weight-saving exercise, whereas with other models you have to buy the chassis with the light board."
John O'Conner now has 30 Ducatos on its fleet with another seven on order. Five of them are a tipper specification with cages and the others are dropside to carry mowers. The bodies are bespoke and built by BL Searle in Sandy, Bedfordshire.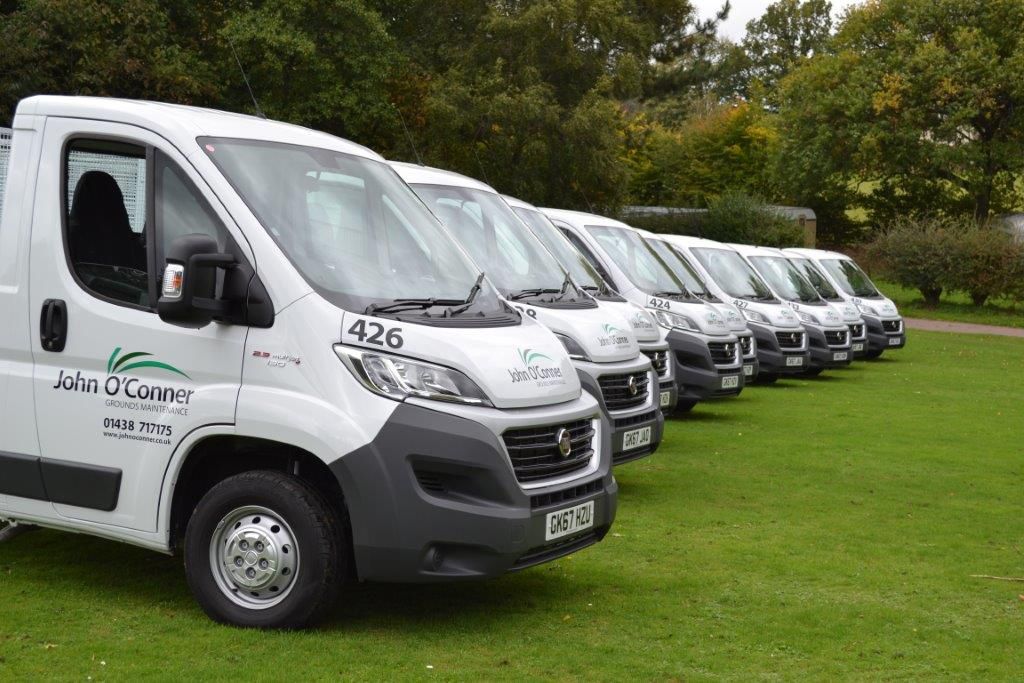 "We've spent years working on this body to get it as light as possible and to carry what we need, and we're confident there is nothing else quite like it out there for lightness," says Simon. 
John O'Conner also has four Fiat Doblò Work Ups which are used for rubbish collection in parks.
The LCVs are all outright purchased and around 160 vehicles are maintained at John O'Conner's workshop in Welwyn. The others, which are not based in the area, are maintained by local garages. 
The Fiats will be maintained at Fiat Professional retailers under Mopar (Fiat's own parts, service and customer care organisation). 
"I've got Mopar set up and I intend to use that so we've got our labour rates set across the Fiat Professional network which will work for us," says Simon. 
Potentially, John O'Conner will be ordering another 10 Ducatos this year, if they are awarded local authority contracts. 
Redhead says it was "a big step" to change manufacturer but he has no regrets. "Fiat is definitely going in the right direction," he says.